Cultivate Apothecary
at Stonegate Farm
MAKERS OF FARM TO FACE SKIN CARE
where we grow
STONEGATE FARM
Stonegate Farm is a nineteenth-century estate farm in New York's picturesque Hudson River Valley. Located one-hour north of New York City, the historic carpenter-gothic farm is a model of bio-intensive organic farming where growing and cultivating is practiced as an art form, where healthy and sustainable land-stewardship is prioritized, and where ideas on the value, meaning and processes of small-scale, sustainable farming are passionately explored.
The power of our botanical beauty and wellness line lies not only in the care we take to cultivate and process the finest, most beneficial organic herbs, fruit and flowers on our farm, but in our potent solar-infused formulations that are custom blended to the needs of our customers. Our farm to face skincare begins with a deep connection to the land, or terroir, and a philosophy of cultivating, creating, and formulating that's rooted to place ~ the foundation of everything. Our farm lab is inspired by a profound and powerful teacher ~ Nature ~ and we create green skincare products that embrace the life-enhancing, wholesome rituals of natural skin and body care. Rejuvenating, repairing, and nurturing your skin begins here.
Our Philosophy
HOW WE GROW
The farm cultivates a seasonal abundance of medicinal and culinary herbs, botanicals for topical and ingestible beauty and wellness, as well as historic tree and bramble fruit, vegetables, cut flowers and raw honey. Our methods are naturally organic and sustainable, with no chemical fertilizers or pesticides in practice. Our soil is regularly replenished with local compost, minerals and low-impact cultivation. Though herbs and flowers are the farm's priority, it's Stonegate's diverse and varied ecosystem of living things, all nurtured by the same terroir, that is essential to the harmonic balance and interaction of soil and plant health, as well as to the efficacy of the farm's products and services.
Founders
Who We Are
We are Jill Rowe and Matthew Benson, co-founders of Cultivate Apothecary at Stonegate Farm and stewards of this magical and productive piece of earth.
We and our amazing team at Stonegate Farm and Cultivate Apothecary are passionate about creating the most beautiful and potent botanical beauty, wellness, and green skincare products for you. We care as much about the impact and efficacy of what we create as we do the impact that we impress on our environment. We pride ourselves on our natural approach to skin care, providing you with only the best green skincare and farm to face skincare and beauty products.
We are multi-passionates–with past lives in publishing, film, fashion, photography, art, food, horticulture, and beauty–but mostly we are compulsive creatives with never enough hours in the day.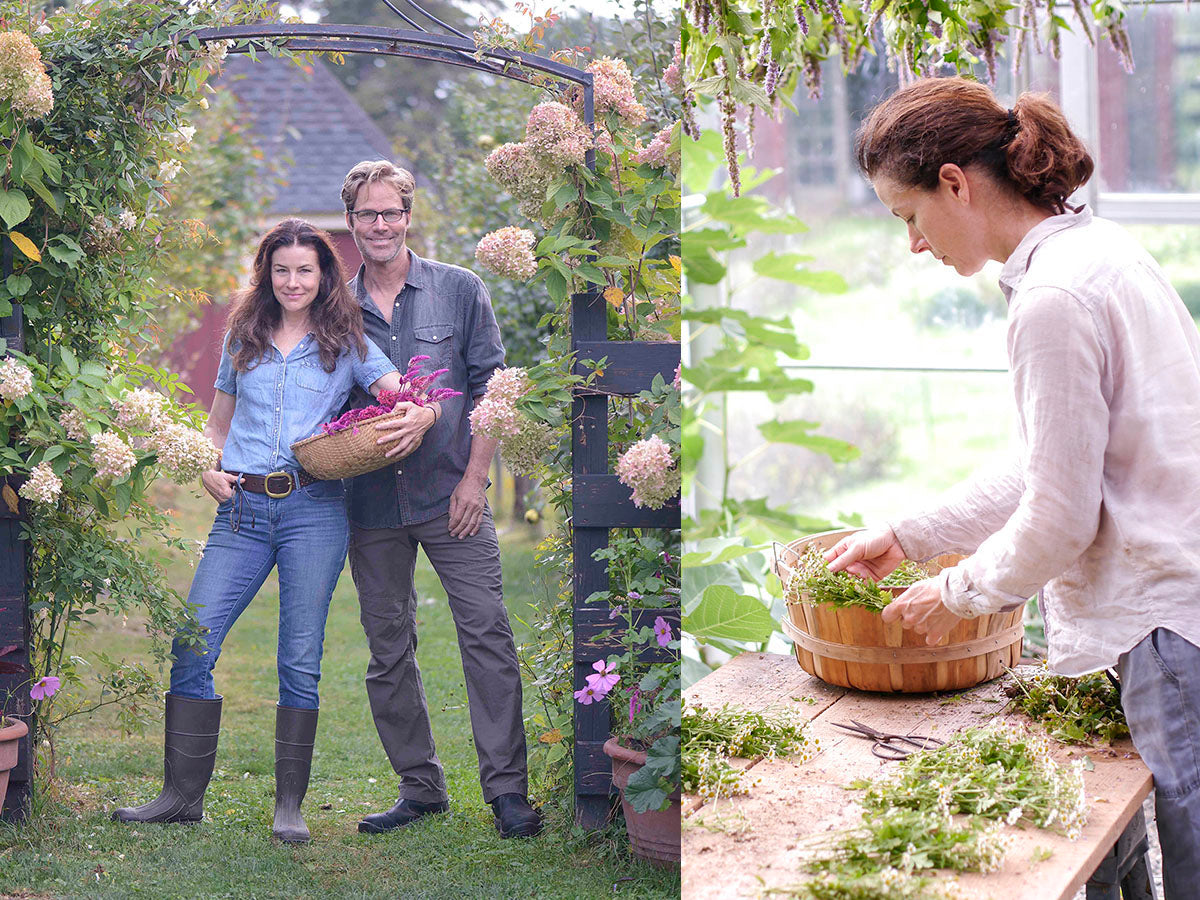 cultivation
Our Ethos
At Cultivate Apothecary, we believe that lasting, radiant beauty comes from creating a sacred relationship to self ~ it comes from making space for ritual and care in your life, from choosing products that reflect the imperatives and values you cherish. We grow slow at Stonegate Farm: It takes months to complete our formulations, beginning with seed in the spring, to cultivation, harvest, and creation. We believe in the thoughtful stewardship of land and resources, in supporting community, and caring for our planet. Slow beauty is about taking time to nurture and heal yourself and the world you move through. We infuse those same values into all of the green skincare and farm beauty products we create.
Shop our Collection of Green Skincare
HOW WE CREATE
OUR LAB
Our farm lab is inspired by a powerful teacher ~ nature ~ and we create farm to face skin care that embraces the life-enhancing, wholesome rituals of natural skin care.
As growers and formulators, we're able to bring a deep understanding of the the efficacy of what we cultivate to our products, insuring long-term skin health by blending botanicals into highly-selective formulations.
This is where true, lasting, and radiant beauty begins and flourishes—right here, at Cultivate Apothecary at Stonegate Farm.
Shop Farm to Face Botanical Skincare